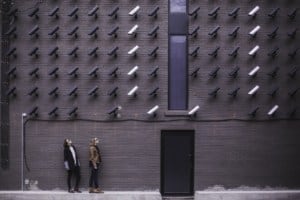 Securing your Amarillo TX business, including your employees and property, should be of top priority when you're a business owner. Using commercial security cameras and a connected monitoring system, you'll be able to consistently check on your investment. Stay on top of security concerns, and be quick to respond to any potential threats. With a commercial security system and security cameras, your business will be secure and your employees and building will be protected.
Commercial Security includes security cameras
When you think commercial security, you probably think of alarm systems, fire alarms, and emergency response; plus of course, security cameras. Having high quality security cameras installed throughout your Amarillo business will ensure that you can keep track of employees and customers that are coming and going, as well as check on your business during after-hours. If a break-in happens, you'll want to be able to review your security camera images to submit to the police department. Plus, having the latest technology in security cameras can also make your job easier. Keep a look-out for special deliveries, or make sure things around your property look like they should. With commercial security cameras, you'll keep your eye on everything.
Monitor your business with a commercial security system
With a commercial security system and connected security cameras; you'll be able to monitor your business all hours of the day. For small business owners in Amarillo TX, this is a great feature. Connect your business security camera directly to your mobile device. Use your smartphone or tablet to view the entryways and exits to your business during after hours. If you're on vacation, check out your property while you're away. Have peace of mind knowing that you can check on your investment at any time. Also, you'll have 24-hour monitoring from your commercial security company. If an alarm sounds in your business, your security company will contact the right emergency responders to check out what has happened. Be contacted immediately in the case of any threat.
Insure your investment with commercial security
Not only is a commercial security system a great asset for protecting and securing your business, but also you will likely save on your business insurance by having a top of the line security system. Many insurance companies appreciate an Amarillo business owner that is on top of their security. Some insurance companies offer a certain percentage discount for installed security cameras, commercial security monitoring, and updated fire alarm systems. Insurance is essential for any business owner, large or small, and any time you can save on that insurance means you can invest more in your company.
1st Alarm Amarillo boasts the best security alarm team in the greater West Texas region. Our professionals have the expertise and resources to help you secure your property quickly and affordably. To learn more about our residential services, request a quote online or visit us at our conveniently located office.
If you are considering adding a security system or a security camera to your home or business, contact the security experts at 1st Alarm Amarillo. We have the expertise and technology to help you secure your premises at an affordable price.  1st Alarm Amarillo can help you with all of your security needs.Call 800-276-5559 today.  Request a Quote online or come by the office located at 800 SW 7th Avenue in Amarillo, Texas.