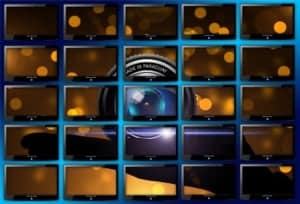 Home video surveillance systems give you the ability to be two or more places at the same time. They provide peace of mind and give you the ability to monitor everything from sleeping babies to the patio door. There are many kinds of systems, but the basic premise is the same; to allow you to see whatever is going on within your Amarillo TX home.
Crime and Security Camera Statistics
It is estimated that there are 18 million home security systems installed in homes from coast to coast. Of these, 20% of homes in the United States have security cameras connected with their systems. Each year, nearly 2.5 million burglaries and break-ins occur throughout the country costing homeowners, renters, and landlords nearly $4.5 billion in lost property. That's one home intrusion every 13 seconds, and a median loss of $3,000 per theft.
Of these crimes, only 13.6% end up with an arrest. In polls with criminals who have been caught for their crimes, up to 60% indicate that they avoid homes with security cameras because it increases the likelihood that they will be caught. Indeed, studies conducted by the Department of Homeland Security have shown that security cameras are highly effective at deterring crime and causing criminals to pause before they commit either violent or property crimes.
Overt Video Surveillance Systems
An overt system is one that's designed to be seen. The visible presence of the security camera is often enough to serve as a deterrent and make a criminal think twice. Visible systems are popular choices for monitoring the outside of an Amarillo home where a deterrent effect is created that can prevent a break in or vandalism from occurring.
Covert Video Surveillance Systems
Often called hidden cameras, covert video surveillance systems are designed to see everything while staying out of sight. Because the presence of visible cameras can add a dystopian chill inside the home, many people choose to install small, unobtrusive cameras that see without being seen.
Wired or Wireless Video Surveillance Systems
Security cameras can be wired or wireless. In the past, wired systems tended to deliver a higher resolution picture, but they are harder to install and once installed they are permanently fixed in place. Moreover, their signal won't be interrupted by other devices such as cell phones, computers, cordless phones, etc.
Conversely, wireless systems can be moved about as your monitoring needs evolve and change. This gives plenty of monitoring flexibility. Today's technology allows for high resolution images comparable to that of wired systems.  Thus, it is important to determine which type of system is best for your need prior to installation.
How Cameras Operate
Cameras are connected to a central system that collects and digitally stores the footage for review. This footage can be stored for as long as it is necessary. The footage can also be live streamed to a television, computer, or phone for real-time monitoring or playback. This allows you to monitor situations in real-time and to initiate the appropriate response to any incident.
There are many options available when choosing security cameras and it is important to select a system that offers the resolution, sound recording, and monitoring capabilities that are best suited for your needs.
Things Cameras Don't Do
Cameras don't stop crime and they don't dial 911 when something happens. While motion sensors attached to the camera can notify you when something is moving about, it is still up to you to review the video feed and make a determination as to whether or not police, fire, ambulance need to be contacted.
1st Alarm Amarillo boasts the best security alarm team in the greater West Texas region.
The 1st Alarm Amarillo professionals have the expertise and resources to help you secure your property quickly and affordably. To learn more about our residential services, request a quote online or visit us at our conveniently located office. If you are considering adding a security system or a security camera to your home or business, contact the security experts at 1st Alarm Amarillo. We have the expertise and technology to help you secure your premises at an affordable price.  1st Alarm Amarillo can help you with all of your security needs. Call 800-276-5559 today.  Request a Quote online or come by the office located at 800 SW 7th Avenue in Amarillo, Texas.