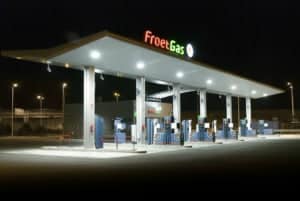 Crimes are often committed when the opportunity is there, and the risk is low. When a criminal sees an opportunity of breaking into a business with little or no danger of being caught, that business becomes vulnerable. Gas stations are known for placing video surveillance around their pumps and inside near their registers and are becoming known for this form of security. This knowledge is sending criminals towards other, less protected businesses. Video surveillance is not just for gas stations; it is now affordable for even modest shop owners to protect their businesses with proper monitoring.
A Video Surveillance System Helps Deter the Criminals
Criminals are discouraged from committing illegal activities at businesses where they know their movements are being recorded. When they decide to rob a place they generally check if a video surveillance system is installed and how many customers frequent the store. When they see your business has a lot of foot traffic and no surveillance to protect it, you are opened up as a target. This scenario refers even to the stores that are located in what are deemed 'good' neighborhoods. If you want to deter the criminals from targeting your business, you need a video surveillance system.
A Video Surveillance System Helps Protect Your and Your Employees
During a robbery, circumstances can often become uncontrolled, and the risk of you or one of the employees becoming seriously injured is high. The best protection against this threat is to deter the robbery from ever happening. Most criminals will not commit a crime if they know they are being watched. Since criminals look for businesses easier to rob than gas stations and convenience stores, it's in your best interest to install a video surveillance system.
How Does a Video Surveillance System Protect You?
There is a multitude of concerns for business owners where security is concerned. A video surveillance system gives you the peace of mind you and your management needs to run your business successfully. This security can be effective if there are only a few employees or there are hundreds. A video surveillance system can be effective in deterring criminals from robbing a business, track employee performance, secure high-security areas, and prevent employee theft.
Choose the Right Video Surveillance System for Your Business
Whether you are the sole owner of a small business or own a large warehouse or campus, 1st Alarm has trained technicians and the experience to protect you. The knowledgeable security team with 1st Alarm will help you choose the video surveillance system that will work for your needs. They will work with you to design a commercial security system that not only works for your business but also with your budget. Call 1st Alarm today and secure your peace of mind and your business.
Choosing 1st Alarm to install your video surveillance system will give you the protection your business needs. If you are considering adding a security system or security cameras to your home or business, contact 1st Alarm today. We are conveniently located in Abilene TX, Amarillo TX, El Paso TX, Lubbock TX, Midland TX / Odessa TX and San Angelo TX.  We have the expertise and technology to help you secure your premises at an affordable price.  Let us help you with all of your security needs for your business and your home.  Call 800-276-5559 today.  Request a Quote online or come by our office nearest you.